Jennifer Dougherty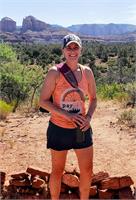 Jenn attended her first class at Psycle in 2014 looking for a place to relieve the stress of balancing work, home and her kid's schedules. To her surprise she found that and so much more. Jenn not only found a place to escape, but also a great group of people who challenge and supported her in her journey to a better person both inside and out. After spending a few months on the bike, a friend convinced her to step into that "other room" and try a class with Maria. From that day forward her passion and focus on building a stronger, leaner, healthier body took off. Jenn quickly realized the benefit of strength training and began to split her time between the strength and spin rooms. Then in early 2017 she began her path to TRX certification. The advantage of TRX is it's "all core, all the time". So while you are building the long lean muscles everyone strives for, you are constantly strengthening your core. Jenn will guide you in the use of the TRX straps, which can be intimidating, while stressing proper form to get the most out of your workout. Each class will work every major muscle group as well as incorporate cardio to maximize your calorie burn. TRX can be easily modified to challenge anyone at any fitness level and experience, so what are you waiting for; it's time to step out of your box and give TRX a try.
Jennifer Dougherty instructs the following:
Never the same workout twice! This off-the-bike power circut training class uses challenging combinations of movement, balance, stretching, biometrics and core work to build strength and perfect your physique. These body altering moves are set to great music to keep you going! Classes may use stability balls, body bars, weights, mats, medicine balls, sliding discs all incorporating your body weight as key resistance. Feel and see your body change with each class.




TRX Suspension training is a form of resistance training that includes bodyweight exercises. The aim of this class is to develop strength, balance, flexibility and joint stability simultaneously. This class is set to great music while the movements are a compliment to a cardio workout.




Looking to quick start your metabolism and tone your physique? Psycle Boot Camp is for you! Psycle Boot Camp combines challenging total body strength moves with intensity, cardio and timed intervals. You'll feel the burn while you build long lean muscles and get your sweat on. Pushing yourself to keep the beat to bass bumping music designed to inspire and having your comrades beside you will help you push through the burn while redefining your body, mind and soul. Water, towel, athletic shoes and a small snack are recommended.