Mick Gaul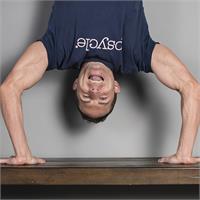 Strength, Cardio and Nutrition are the three most important elements you need to incorporate into your routine to achieve your goals. In Mick's strength classes you will have a full body workout, from head to toe, incorporating all the major muscles. Whether you are a beginner or advanced, everything can be modified in class to fit your fitness level.

Mick went to his first class at Psycle back in 2011. The family atmosphere at Psycle is what makes the difference for him. Not only do you get a great physical workout, but everyone at Psycle helps you stay mentally focused. The passion and enthusiasm of everyone at Psycle keeps you pushing yourself farther than you ever thought possible.

Whatever your goals are, no matter how big or small, you need to ask yourself; 'How Bad Do You Want IT?' Mental toughness is one of the first things you need, ANYTHING IS POSSIBLE. As long as you are willing to challenge yourself and keep your confidence, you will be successful. Mick has a passion for health and fitness and is going to challenge you to help achieve your goals. Most importantly, having FUN while doing it!!
Mick Gaul instructs the following:
Looking to quick start your metabolism and tone your physique? Psycle Boot Camp is for you! Psycle Boot Camp combines challenging total body strength moves with intensity, cardio and timed intervals. You'll feel the burn while you build long lean muscles and get your sweat on. Pushing yourself to keep the beat to bass bumping music designed to inspire and having your comrades beside you will help you push through the burn while redefining your body, mind and soul. Water, towel, athletic shoes and a small snack are recommended.




TRX Suspension training is a form of resistance training that includes bodyweight exercises. The aim of this class is to develop strength, balance, flexibility and joint stability simultaneously. This class is set to great music while the movements are a compliment to a cardio workout.