Elcin Riza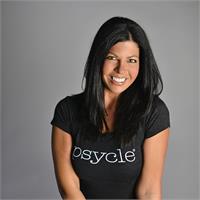 Finding herself at a personal and physical standstill, Elcin knew it was time for a real change. She was looking for something different and was tired of the big-box gym scene — always finding the environment sterile and impersonal.

Elcin walked into Psycle for the first time in January of 2012. She initially wanted to burn a ton of calories in a fun way, but she soon craved more. Attending multiple classes a week, she quickly realized this was the start of a personal journey on which she never imagined embarking.

Living with a "be where you are" attitude, Elcin found Psycle to be a true sanctuary where she was safe to let go. There was no judgment, just an undeniable energy. She was able to leave the noise of life outside the studio doors, lose herself in the moment and the rhythm of the music, and connect to lyrics she had heard before but never really felt. With the camaraderie and energy of the instructor and riders beside her, song after song, ride after ride, pedal stroke by pedal stroke, she has reached and even exceeded goals she once deemed unattainable. Today, she is the strongest physically, mentally and emotionally that she has ever been.

Elcin takes the Psycle stage as a certified Instructor. She rides with heart and soul. She has a passion for music and brings huge energy. In her classes you will hear a diverse mix of music from country to rock, from old school to the hottest hits of now. Her playlists are designed to enliven the body, inspire the mind and spirit, and always be fun. Elcin recognizes that everyone has different goals, and she encourages you to share — you don't have to go it alone. Join her for your ride as you embark on your own journey of change.
Elcin Riza instructs the following:
Don't just workout, you'll work from the inside out and the time will fly by as you pedal to the beat of the music and engage in an active mediation. Intention, focus, discipline and rhythm are the foundation for what is likely to be a life changing experience. Ride along this path for permanent change! A full body experience with high energy music will set you up for lasting success.

approx. 55 min ride + stretch




Whether you are new to indoor cycling or seekng a recovery ride, GROW is the class for you. You will find the same high energy fun party ride as other PSYCLE classes delivered at a slightly less intense level. This challenging ride focuses on helping riders "grow" from their current base into other classes and also serves as an excellent opportunity for advanced riders to recover after an injury or an intense week. Weekday classes ride approx 45 min + stretch and the weekend classes ride a little longer at approx 50-53mins + stretch.




A shorter but more intense riding experience. All the burn in less time (approx. 45 min ride + stretch).