Jennifer Conroy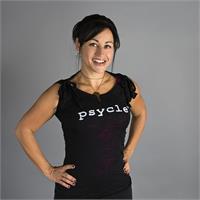 It's not about the destination, the best part of any journey is the ride! Jennifer will never forget her first indoor cycling class at Psycle® in 2012. Recovering from hip and back surgeries Jennifer discovered that she could not only heal her body, but change her life. Beyond a workout of high intensity, core strengthening, low impact, full body engagement, there was an unexpected work-IN component when the lights when down and the beat kicked in. Building strength from the inside out with Psycle's unique messaging, inspirational instructors, and the amazing Psycle® community of riders, she took the stage as a Psycle® instructor in 2013. Much like coming home to the unconditional love and enthusiastic greetings of her three dogs, every time she walks through the door at Psycle® to a place of no judgments and unlimited support, Jennifer feels it's just like coming home. You'll find a heavy beat, a little sass, and a whole lot of love in her classes; in or out of the saddle you can hustle, sweat, dance, or just grab your bike and let go!
Jennifer Conroy instructs the following:
Don't just workout, you'll work from the inside out and the time will fly by as you pedal to the beat of the music and engage in an active mediation. Intention, focus, discipline and rhythm are the foundation for what is likely to be a life changing experience. Ride along this path for permanent change! A full body experience with high energy music will set you up for lasting success.

approx. 55 min ride + stretch




A shorter but more intense riding experience. All the burn in less time (approx. 45 min ride + stretch).