Emily Minnich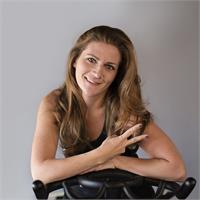 Willing to try anything once, Emily was dragged to her first class back in 2010 where she met Jenn Sommers and she has been hooked ever since. "It is amazing what you can accomplish both physically and mentally on a stationary bike… if you are willing to just let go." The real world isn't easy. You might only get one hour for yourself in a day to commit to making yourself better on the inside and outside. Based on the pillars of focus, discipline, rhythm, and intention, her classes begin to transform both bodies and attitudes. Emily steps on to the instructor stage bringing along her energy, soul and yes, her humor. With her invaluable taste in music and sense of flow, this is a ride you will not want to miss. So put on your big girl or boy pants and give her class a try!
Emily Minnich instructs the following:
Wake up and ride! This ride will crank your body and mind awake like no cup of coffee can ever do... Slightly shorter than a PSYCLE 60 class, this one is set up with a bit higher intensity so you can get in, get done and blast off to your day!

approx. 50-54 min ride + stretch




Whether you are new to indoor cycling or seekng a recovery ride, GROW is the class for you. You will find the same high energy fun party ride as other PSYCLE classes delivered at a slightly less intense level. This challenging ride focuses on helping riders "grow" from their current base into other classes and also serves as an excellent opportunity for advanced riders to recover after an injury or an intense week. Weekday classes ride approx 45 min + stretch and the weekend classes ride a little longer at approx 50-53mins + stretch.