Maria Zemen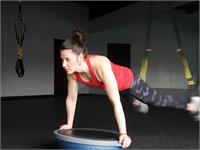 A lifelong soccer player, dance machine and all around fitness enthusiast, Psycle has given Maria the opportunity to channel her intensity and passion into helping her students achieve their mental and physical fitness goals. After two re-constructive knee surgeries took her out of the game she loved, Maria discovered indoor cycling as a perfect means to rehab her BODY, MIND and SOUL. "From the minute I climbed my first standing hill on the bike, I felt that competitive spirit come alive in me again. I couldn't get enough." Maria takes an encompassing approach when teaching on the bike incorporating seated and standing sprints, tricep dips, heavy hill climbs, oblique crunches, hovers, isolations and more. Energy and form permeate her rides. Incorporating a diverse mix of music that will keep you motivated and coming back for more, Maria plays everything from System of a Down to Shakira to Johnny Cash. You'll find your BODY and MIND connection get stronger as you build strength and endurance on the bike.

Maria's passion and intensity extend beyond the bike. She also teaches total body strength classes that focus on pushing you past your comfort zone while you build confidence and meet your fitness goals. Maria designs her strength routines to target all major muscle groups and provide various modification techniques for all fitness levels. In addition to using your own body weight to build strength, you'll incorporate various "toys" that will work your muscles in a whole new way including: body bars, medicine balls, gliding discs, stability balls, bosu and more. "You have to keep your muscles guessing if you are going to get stronger and push yourself past that plateau point. It's all about determination and change."

Whether she's leading you on the bike or kicking your butt at strength, you'll find Maria's energy, humor and passion will fuel your fire to reach new heights you never thought possible.
Maria Zemen instructs the following:
Don't just workout, you'll work from the inside out and the time will fly by as you pedal to the beat of the music and engage in an active mediation. Intention, focus, discipline and rhythm are the foundation for what is likely to be a life changing experience. Ride along this path for permanent change! A full body experience with high energy music will set you up for lasting success.

approx. 55 min ride + stretch




Never the same workout twice! This off-the-bike power circut training class uses challenging combinations of movement, balance, stretching, biometrics and core work to build strength and perfect your physique. These body altering moves are set to great music to keep you going! Classes may use stability balls, body bars, weights, mats, medicine balls, sliding discs all incorporating your body weight as key resistance. Feel and see your body change with each class.




Wake up and ride! This ride will crank your body and mind awake like no cup of coffee can ever do... Slightly shorter than a PSYCLE 60 class, this one is set up with a bit higher intensity so you can get in, get done and blast off to your day!

approx. 50-54 min ride + stretch




A shorter but more intense riding experience. All the burn in less time (approx. 45 min ride + stretch).




Looking to quick start your metabolism and tone your physique? Psycle Boot Camp is for you! Psycle Boot Camp combines challenging total body strength moves with intensity, cardio and timed intervals. You'll feel the burn while you build long lean muscles and get your sweat on. Pushing yourself to keep the beat to bass bumping music designed to inspire and having your comrades beside you will help you push through the burn while redefining your body, mind and soul. Water, towel, athletic shoes and a small snack are recommended.




TRX Suspension training is a form of resistance training that includes bodyweight exercises. The aim of this class is to develop strength, balance, flexibility and joint stability simultaneously. This class is set to great music while the movements are a compliment to a cardio workout.




A Psycle New Year's tradition!

Join us for a special ride to start your year off right.

This 90 minute journey will take you deep inside your mind, challenge you physically to your edge and leave you feeling simply amazing...