Bob Nemo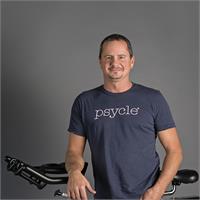 Bob has been a dedicated cyclist for over 5 years. Inspiration he found in riding has helped him accomplish goals he never thought possible. Those goals include a Half Ironman Triathlon in 2010 which will lead him to his ultimate goal of a Full Ironman in the near future.

Regardless of your fitness level Bob's class will push you to your limits. His enthusiasm and devotion to Psycle and it's students will show through his challenging and motivational rides.

His music will be diverse and energetic, from Kid Rock to Rihanna and everything in between.

When he's not on a bike, he's running his restaurant, Nemo Grille, and spending his time with his 3 amazing daughters.
Bob Nemo instructs the following:
Don't just workout, you'll work from the inside out and the time will fly by as you pedal to the beat of the music and engage in an active mediation. Intention, focus, discipline and rhythm are the foundation for what is likely to be a life changing experience. Ride along this path for permanent change! A full body experience with high energy music will set you up for lasting success.

approx. 55 min ride + stretch